LADYBUG DAY!

I always like to support Jumpstart's "Read for the Record" event each year, which celebrates literacy by coordinating the reading of a selected book with groups all around the world!  This year was no exception!  The book that was selected was "Ladybug Girl and the Bug Squad" by Davis Soman and Jacky Davis.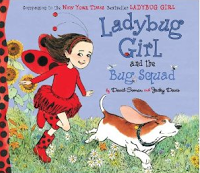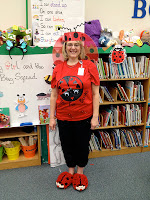 I have absolutely no shame and tend to go "overboard" in getting ready for these "mini" events in my library.  First, I invited the teachers to meet me in the library after school to create their very own "Ladybug" t-shirts.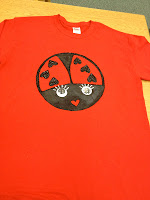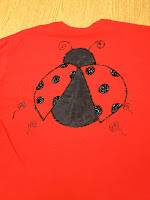 Then, I started to plan the activities that I would do with the kids.  I always try to connect the story with some sort of music and/or arts-n-crafts activity.  This year, I searched for ideas on "ladybug" crafts, and had a hard time choosing JUST one! 🙂  I ended up choosing a variation of the "Ladybug Headband" found here. 

My friends in ELE showed me an ingenious way to use a rubber band to create a one-size-fits-all headband.  You fold each end of the paper down, and loop the rubberband over both parts.  Then staple the ends down so that the rubber band is secure inside the flaps.  Cool, huh?!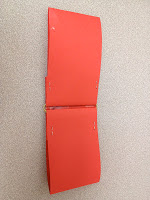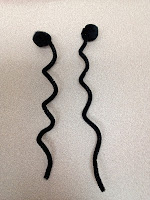 Then, I attached pipe cleaners and pom-poms for the antennae.  I was originally going to hot glue them down, but I found it worked just fine to wrap the pipe cleaner around the pom-pom, and it took less time and supplies!  Even better!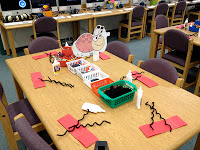 I had everything placed on the tables when the kids came in.  After the story, we reviewed how to make "ladybug" dots of glue, and then they glued on their spots, and voila!  Instant ladybug kids!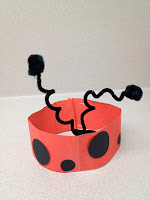 Overall, I read the story to about 150 kids and teachers, and it was a huge success!