The week before Easter,  I went to Barnes & Noble to find some new bunny books to read for my younger grade levels.  I came across this wonderful book called Creepy Carrots by Aaron Reynolds, and thought it would work perfectly.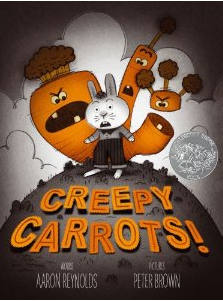 When I got home, I noticed that Creepy Carrots was the recipient of the Caldecott Honor Award.   So I decided to use this book as a way to introduce what the Caldecott Award is to my students. (Isn't it funny how sometimes things just work out perfectly!?  I LOVE it when that happens!)
     First, I grabbed about 15 different books that were winners of the Caldecott Award over the last couple of years.  When the kids came in, I placed them around our circle carpet and had them walk around to see if they could figure out what all these books had in common.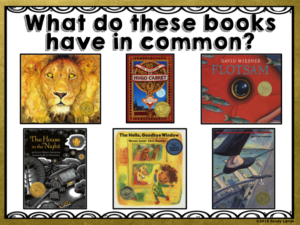 I gave them 1-2 minutes to look at just the front covers, and then share out what their ideas were.  They all were able to figure out that each book had what they called a "gold coin" on the cover.  I then showed them this poster, and we talked about the Caldecott Award. (These are new posters that were updated on 7/22/2016 with even more facts about the award).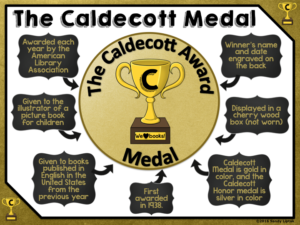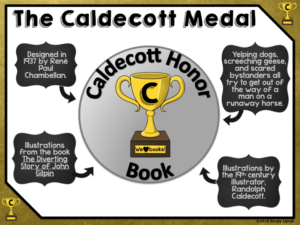 I had them partner share (turn to a neighbor and explain what the Caldecott Award is) and then I showed them the poster for the most current winner. We talked about how there is ONE winner, but they often award anywhere from 2-5 honor books each year.  I showed them how these books get a silver medallion instead of a gold one.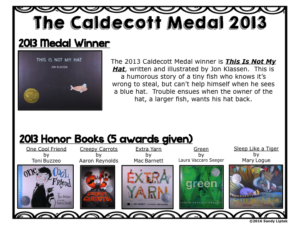 Unfortunately, we didn't have a copy of the medal winner, This Is Not My Hat anymore.  When they asked me, "Why!?" I told them that someone had checked it out, put it in their backpack, and also put their water bottle in their backpack.  Sadly, their water bottle leaked, and the book was destroyed.  I used this incident as an opportunity to remind students to keep their books safe.  They were very upset, and expressed their hope that this person pays for the damaged book so that we can repurchase the book.  I assured them that I would be reordering it soon. (It was actually very sweet!)  As a consolation prize, I told them that I would read Creepy Carrots, which was one of this year's Honor Award books.  They were excited by this, and loved the story! (See, it's awesome when things work out!) 
     Before reading the story, we went over the past 4 years worth of titles, and some of the kids were thrilled to find out that they had either seen one of those books on display in the library, or had even read one!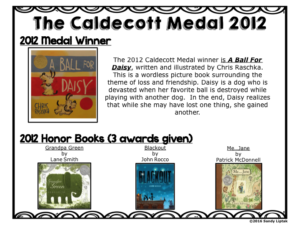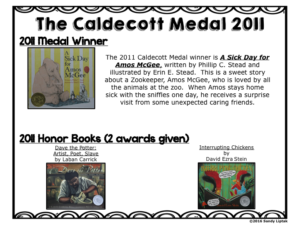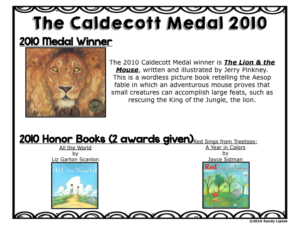 I told them that there were 2 amazing illustrators who had actually won the Caldecott Award 3 times! (They all went "WOW!")  I showed them the three winning books by Marcia Brown as well as the three winning books by David Wiesner.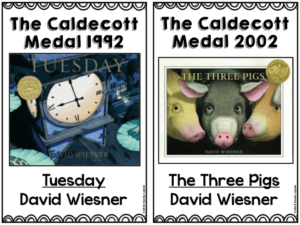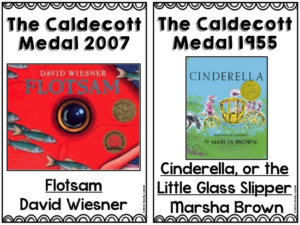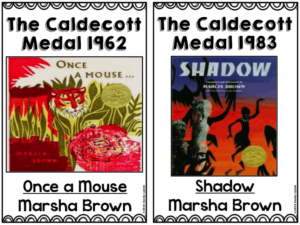 Then I pulled out the books Tuesday and Flotsam, and showed the students how each of these books were unique because they didn't have any words.  I introduced the concept of "Wordless Picture Books", and asked them "How do you read a book without words?!"  The kids were quick to answer "You read the pictures!"  So we practiced this skill using David Wiesner's book Flotsam.  If you'd like to use any of these Caldecott posters, you can find them at my TpT or Teacher's Notebook stores.
(By the way, each year I update this file
to include the newest Caldecott winners!) 
Updated 7/22/2016:  I updated this activity to now include a student note-taking sheet that they can use while they do a book-tasting with Caldecott books.  I also updated the posters to include even more fast facts about the award.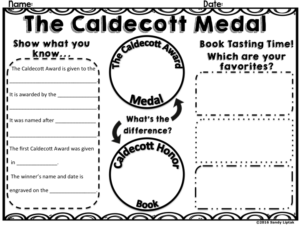 How have you introduced or taught the Caldecott books?  I love to hear your ideas! 🙂