So my lesson on the Caldecott Award books went so well with my 1st and 2nd graders, I decided to do something similar with the Newbery Award books for my 3rd-5th graders.  
     First, I selected about 15 different books that were winners of the Newbery Award over the last couple of years, and I put them on display on top of the bookcases that surround our carpet area.  When the kids came in, I had them walk around and take a look at all the books.  They immediately knew something was up, and began to ask questions like "Are these the new books you ordered!"  (So cute!) I told them no, but that I would have those books on display as soon as they come in. (I think I'm more impatient than they are for these new books to arrive!)
     After they had looked at all the books, I asked them "What do you think these books all have in common?"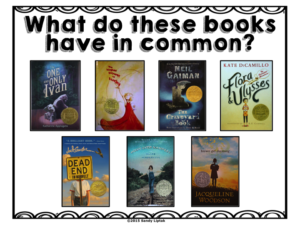 They began to guess some things that made my heart proud (different genres we had talked about, different themes, location in the library, etc.)  Finally, someone noticed the gold symbol on the covers of the books, so I showed them the poster and we talked about the Newbery Award.  Some of them remembered the Caldecott from previous years (yeah!) and we talked about the difference between the two awards.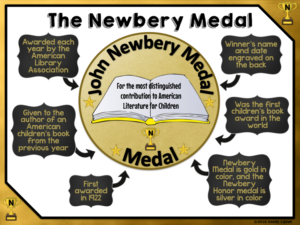 I showed them the poster for the current winner,  The One and Only Ivan, and we read the summary of the story.  I told them that this story was even more special because it was also nominated as one of the 20 Texas Bluebonnet Award books for this coming school year.  Many of them had participated in this year's Battle of the Bluebonnets, so they were excited to hear about this book. We also looked at the three honor books and talked about how the stories fit different genres.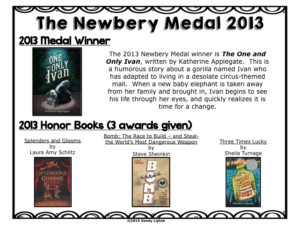 Then, I showed them the posters and books for the last three years, and we began to have an impromptu book talk about many of the stories.  Some of the students were also looking on their phones to see if any of these books were on Overdrive (which is our online eBook service).  There was even talk about reading some of these books over the summer (I was so proud!)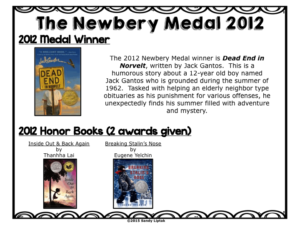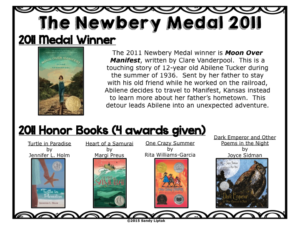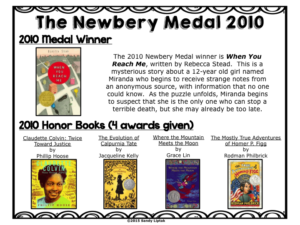 Updated on 7/22/2016:  I've included a new student fact sheet that can be used for a review, and can be used as students go through a book tasting with Newbery books.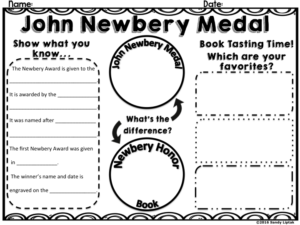 This was definitely one of those lessons that just made me smile and extremely thankful for the awesome job I have!  If you are interested in using any of these posters, you can get them at my 
TpT or 
Teacher's Notebook store.
(By the way, each year I update this file
to include the newest Newbery Award winners!) 

What lessons have you done lately that made you smile?  I'd love to hear from you!

Thanks!
Sandy