Markers, and crayons, and pencils, oh my!
     As you walk through stores right now, you can start to see that school is definitely in the air!  This is always a time that makes me happy (there's just something about brand new school supplies that makes my heart smile!)  
     But with the happy smile comes the slight grimace of all the things that need to get done at the beginning of the year.  I've been thinking about this even more right now as we have two brand new librarians that will be starting that are already feeling overwhelmed (and they don't even know what's coming!) LOL!
     If you've read any of my previous blogs, you might have guessed that I'm a bit of a nerd when it comes to organization!  And the beginning of the school year is no time to forget how much I love to do this!  So, if you would like to keep your sanity with all the work that is about to come your way, follow in my footsteps and start finding or purchasing BINDERS now! My favorite kind of binder is the Presentation View binders which have the plastic see-through front and back.  (Sam's has a set of 8 for approximately $12.00  You can also find really good deals now at all the stores for their "Back To School" promotions).  This way, you can create and print your own cover pages and spine labels to make them look pretty, and make them easier to find.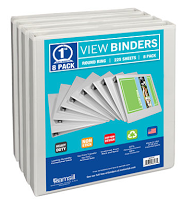 There are 12 main binders that I use to keep track of everything throughout the year.   
School Information

This is where I keep any information that the office gives us regarding schedules, phone directions, agendas, etc.

Things To Do

This is a main list that our district developed that lists the things that need to be completed at the start of each year
This is also where I put any additional notes/directions of things I need to complete.

Forms to Print

This is where I either keep a list or a master copy of all the forms for my different binders so that I can make a copy of them really quickly at the beginning of the year. 

Email Updates

I've learned to keep a BOY template with the most FAQ so that I can just add/delete really quickly to send it out to the faculty.

Open House Night

This is where I keep a copy of our BOY Brochure, Volunteer Sign-up lists, and Parent Information forms. (I like the handouts that you can print from the Reading Rockets website, and usually have them copied on different color paper for each grade level.)
10.  Book Fair
I organized this binder in the following sections:
Things To Do

I created a general list of things that always need to be done in the weeks prior to the Book Fair.  This helps me remember to send things off to get copied in time for when the Book Fair starts.

Sales Forms

I wanted to be able to see what I had sold each day and to be able to compare that information with previous Book Fair totals so I created a form to keep track of this data.

Miscellaneous Forms

I put copies of other things that I always need to make copies of such as poster numbers, wishlists, brochure information, etc.  

Email Updates

I keep a copy of an email template with important information for teachers and students.  This way I can easily add/delete from this template.

Announcements

I keep a copy of a template for morning announcements for each day of our book fair.  This way I can easily just add/delete information as needed.

Certificates

I give out certificates to a lucky winner in each grade level each day of sales.  So I learned quickly to have a form typed up already so that I don't have to write in so much information.
11.  Substitute Binder 
     Having a substitute is always a lot of work, especially in the library.  You not only need to have lesson plans, but you also have to have directions on how to turn on your computers, how to check in/out books, etc.  (If you are interested in learning more about how I handle subs, you can check it out here at http://thebookfairygoddess.blogspot.com/2012/10/substitutes-in-library.html)

I organized this binder into the following sections:
General Info
Lesson Plans
Computer Directions
Shelving Directions
Emergency Info
12. End of the Year Binder 
     The end of the year, like the beginning of the year, is a blur of activity and lists of things to do.  In order to organize this information I created an End of the Year binder.  (You can find more information here at http://thebookfairygoddess.blogspot.com/2013/07/end-of-year-in-library.html) 

I organized this binder into the following sections:
Things to do
Inventory
Check outs
Equipment
Email Updates
Announcements
Certificates
EOY Report
     I know this seems like A LOT of information, but once you get your binders set up, they really do help make things run smoother in the library!  If you would like to set up your own binder system feel free to visit my 
TpT store
 or my 
Teacher's Notebook
 store.  I've uploaded
 all these binder covers (front and back, as well as a blank back so that you can write in your own sections) as well as the forms that I created for each binder.
     What type of Beginning-of-the-Year systems do you have in your library? I'm always looking for new ways to improve and would love to hear back from you!