Going back to school was always an exciting time for me.  As a child, I loved the newness of my school supplies (Let's be honest….I still do!).  As a teacher, I was ready to try out the new projects or systems that I had worked on that summer.  Now, as a librarian, I still find myself enthusiastically preparing for the first day of school (to the point where I can't even sleep in on my last official vacation day!)
    One of the things I'm super excited about is this new sign that I made after seeing similar ones on Pinterest.  There was just something about this quote that REALLY spoke to me!   I fell in love with it, and couldn't wait to "change it up" to fit the library.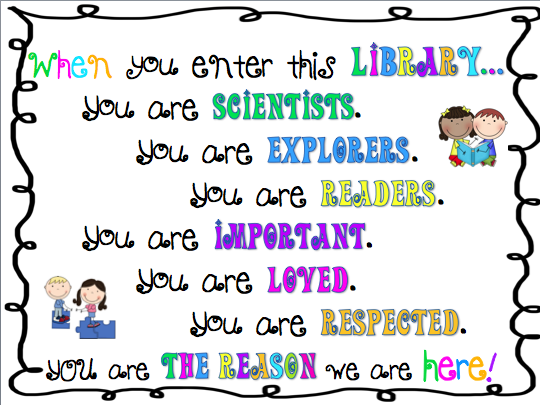 I plan on hanging it on the front doors of our library, which is also seen when people first walk into our school by the office.  Last year, we were given the okay to paint different quotes around our school, and I used that opportunity to also paint the message "Love! Learn! Lead!" above the library door.  I think those two messages will really help set a tone for an absolutely wonderful year!
     So now that I have a new poster, I'm toying with the idea of giving my whole library entrance a new face lift.  (Okay, I'm beyond toying and well into the planning stages!  I haven't really changed it over the last four years, other than for Book Fairs.  This got me curious…does anyone else decorate their front doors?   Does anyone change it regularly or is it something that stays up all year long?  I'd love to hear your ideas, and if you have pictures, I'd love to see what you have done!  I'll post pictures of my final door by the end of the week, so stay tuned!