I've been wanting to find a way to celebrate books with my Kinder, 1st, and 2nd graders, and I finally came up with the idea to do a Battle of the Texas 2×2 books!  I modeled it after the March Madness basketball tournament, but with the award books competing against each other to move onto the next round.
Here's what I did last year:

Before we started, I divided the 20 Texas 2×2 award books into 4 groups with 5 books each.   I tried to put books that are similar together in one round,  and also tried to combine shorter books with longer ones so that I didn't have too much to read in one day.
Week #1:  We read the 5 books in Round #1, and then the kids voted for which two they liked the most.  I made a chart with each cover of the book and gave kids 2 hot dots to put on whichever books they liked the most.  I did ask that they put the dots on 2 different books.  This was a little time consuming so I moved to making tally marks for Round #3 (see pictures below).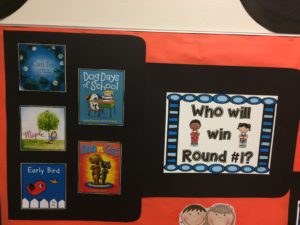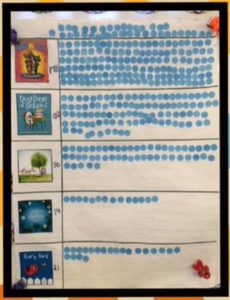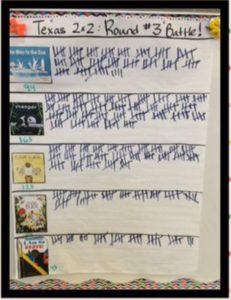 After all classes heard the first round of books and voted, I tallied up the totals and the 2 books with the most points got their picture above the Round #1 sign. (See example below.)  You'll do the same for Week #2, Week #3, and Week # 4.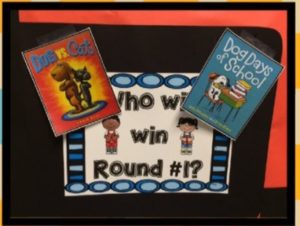 Week #5: We did a different lesson but at the end, the students voted for the one book they wanted to win.  The winners from Rounds #1 and #2 moved to Round #5.  The winners for Rounds #3 and #4 moved onto Round #6.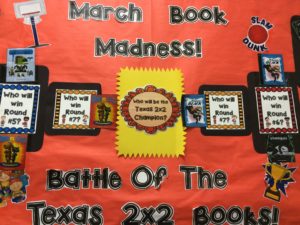 Week #6: We did a different lesson but at the end, the students voted for the one book they wanted to win in Rounds #5 and #6, which gave us our final 2 books!
Week #7: The final 2 books battled it out for the ultimate champion in Round #7!  Oh you should have seen the excitement when I announced the winning book at our assembly!  We even tweeted out to the author, Chris Gall, to congratulate him on his win! 🙂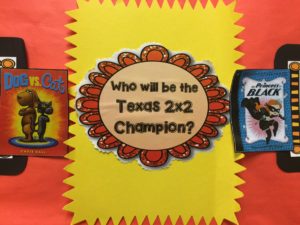 After doing the Battle of the Texas 2×2 books once already, I realized there are a couple of changes you can make so it doesn't take up so many weeks.
Option #1:  You can start reading the books earlier than March so that you don't have to read all 5 books in one day.
Option #2:  Instead of having 2 winners for Round #1, #2,#3, and #4, you can just have one winner.  This will allow the final battle to happen sooner.
If you're interested in doing a Battle of the Texas 2×2 books with your kids as well, you can find everything you'll need right here.  I've updated everything, written out the directions and measurements for all papers, and I've even included the book covers for 2016 and the new Texas 2×2 books for 2017.

We're about to start this again this year, and I just made these fun bookmarks that you can give to the kids before you read each round of books.   They can rate each book (coloring in how many smiley faces they think shows how they feel about the book).  This also gives them something to color and decorate while you call them up to vote for their favorite. Best of all, they can take the bookmarks home and talk about the books they read in the library!  I also included a poster-sized bookmark that you can make so you can demonstrate how to use the bookmarks with the younger kiddos. 🙂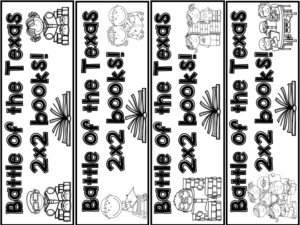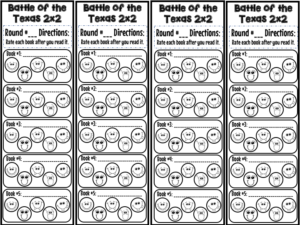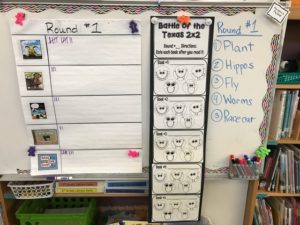 I hope you find this useful, and happy reading!