When I first became a librarian, I was lucky enough to have an assistant.  She was WONDERFUL, and often helped me shelve books that were returned while I taught the lesson.  When budget cuts took away that position, I had to find ways to adapt without going crazy!  One way was to teach the students to help me when they returned their books.  So, I spray painted the book cart with the four colors that matched the signs of the sections in the library.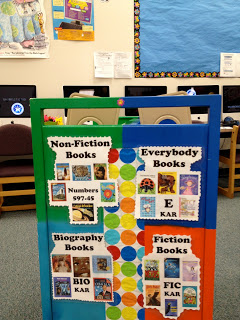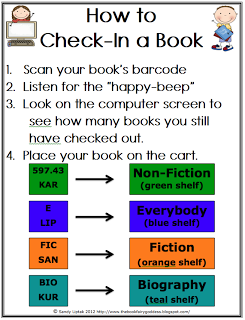 Each time they came as a class to return their books, we practiced following the steps.  We reviewed how to use their book's call number and the chart to figure out where to place their books.  That conversation went something like this:  
Me: "What kind of book are you returning?"
Student 1: "Umm….an "E" for "Everybody"!
Me:  "Great!  What shelf does it go on?"
Student 1:  "Umm….the blue shelf!"
Me: "And what kind of book do you have?"
Student 2: "It has numbers."
Me:  "Wonderful.  Numbers means Non-Fiction.  What shelf will you put it on?"
Student 2:  "The green shelf!"
Most classes picked up on it pretty easily, but we are still working with Kindergarten!  This is my second year using this system, and all in all, it has helped tremendously! 

To help create some consistency with students, I designated one computer as the "Check-In" computer, and the other as the "Check-Out" computer.  I also created these reminder sheets that I placed by the two computers to help them remember the steps of what to do.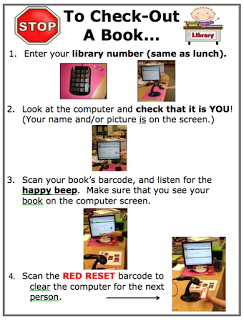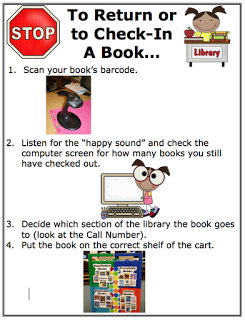 Before I got hired as a librarian, I was a 3rd grade teacher for 16 years, and I learned early on to have a "bag of tricks" and back-up plans just in case the students finished their work earlier than anticipated.  This was even more important if I was out, so I always went way overboard in planning for a substitute.  

Now that I'm a librarian, it seems like it's even harder to plan for a substitute, especially when it's an unexpected illness!  There are so many "technical" things that need to be done that are hard to explain to someone, especially if they aren't "technical" themselves!

So this year, I decided to tackle this problem head-on and create a series of documents that would show step by step instructions for everything that they would need to do.  

First, I created a template for my substitute plans to include the multitude of information that goes with each grade level's lesson.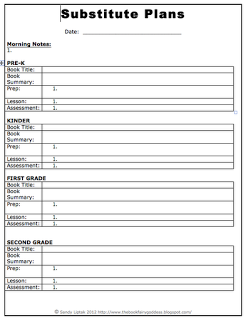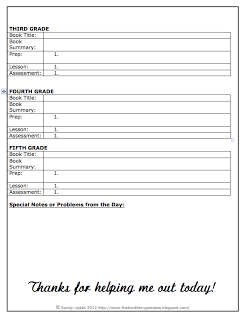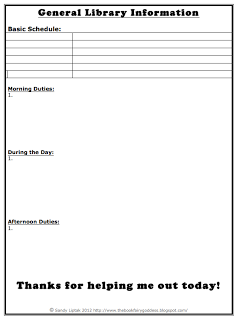 Then I made directions to help them turn on the laptop which I often use with a projector to conduct lessons on technology.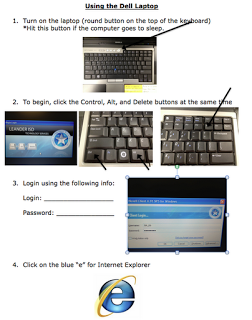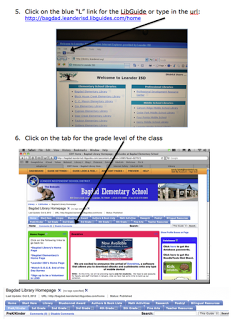 Finally, I created some directions on how to shelve books in each of our library's different sections, just in case the substitute has never shelved books before.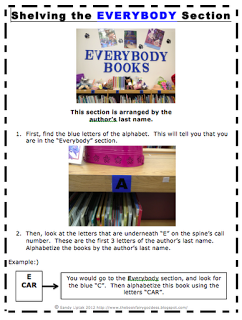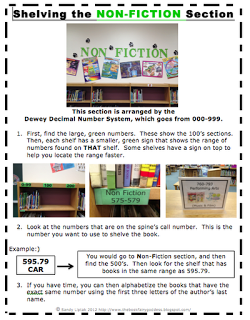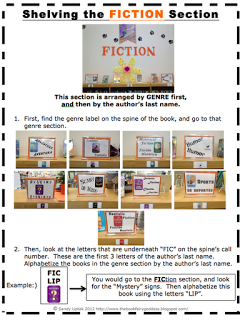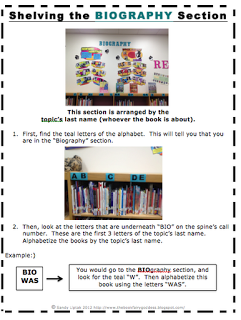 Updated 8/2016:  My students have gotten pretty good at checking books in and out, so this year I created new signs that are not quite as detailed, but are there in case they forget or for new students who need help knowing what to do.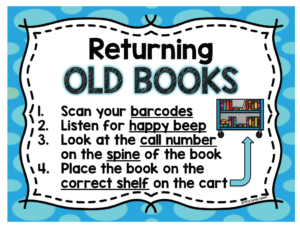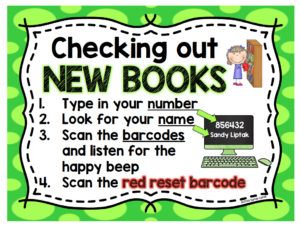 I put all of these documents here at my TpT store in case you might find them helpful.  Most of them are word documents so that you can manipulate them to fit your needs, but some are PDF's due to the licensing agreements on the clipart.