It's the End of the Year in the Library!
Run!  Hide!  Cry!
…..Just kidding!  I don't know about you, but the end of the year in the library is always such a blur of activity that it's hard to keep things straight and not lose your mind!  Luckily, I'm a bit of a nerd when it comes to organization, and I had made some notes on what I needed to do differently.  I'm hoping that these "ah-ha's" will help you as well!
Since this was my fourth year in the library, I had some experience in knowing what was coming and what to expect.  So, one of the first things I did was create my "End of Year Binder".  This way, anything that pertained to the end of the year was all organized in one spot, and I didn't have to keep searching for that misplaced paper or email with instructions on what to do.  
1.  TO DO:
As the end of the year comes closer, we start to get all kinds of different lists of things that need to be done (from the office, the technology department, etc.)    Since many of these are time sensitive, I put this in the front of the binder so that I can remember to check it every day.  I also created a list for myself of the things that I need to remember to do in the library as the year ends.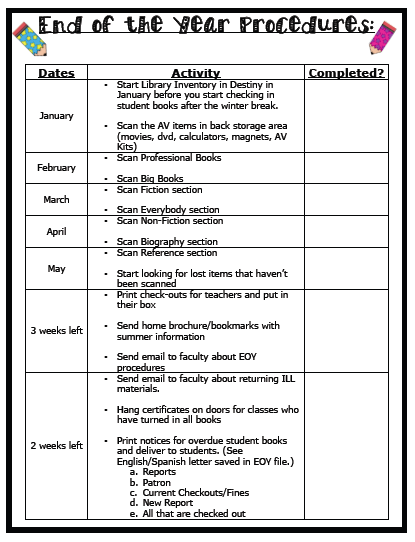 2.  INVENTORY:
I usually start a new inventory in Destiny (our library catalog manager) in January, on our first day back after winter break.  This way, I can count all the books that get returned from the holidays, and get a head start.  Then I slowly follow a schedule and start scanning all the books on the shelves. Some librarians mark the shelves as they have been scanned, but I've found that having it on paper makes it easier for me to tell volunteers or my student library leaders what still needs to be scanned into the inventory.  So I created a map of our library using basic boxes on a word document.  I simply put a checkmark on each box (bookshelf) or on the number (which signifies the shelf on the bookshelf).



3.  Check Outs
As part of our School's EOY Checklist, teachers have to sign off with me after they have returned all their student books as well as teacher materials. So I created a spreadsheet to keep track of all this information. I write in the date when the materials are turned in by each teacher's name.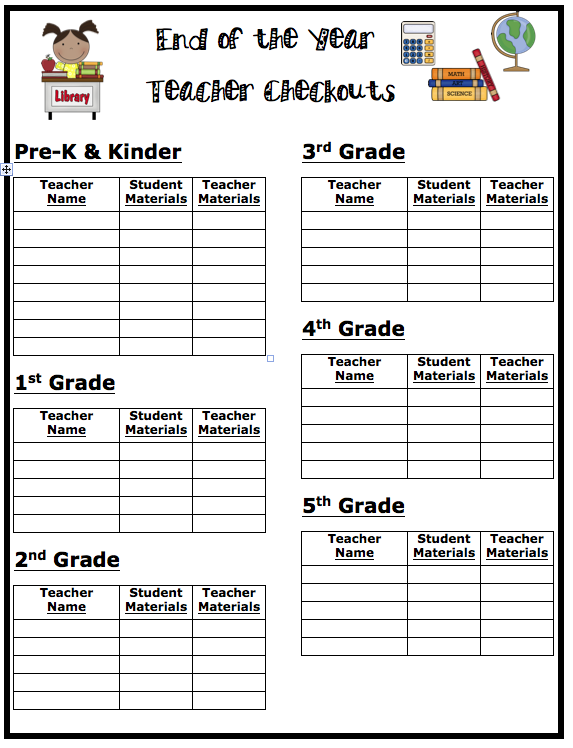 4.  Equipment
In our district, the library is under the Technology department.  As a result, we have begun to take over the custodianship of many of the technology devices.  In order to keep track of everything I need to have returned at the end of the year, I created this form.  Some years, I've just highlighted things as they were turned in.  Other years, I put it behind a sheet protector and used a vis-a-vis pen to check things off.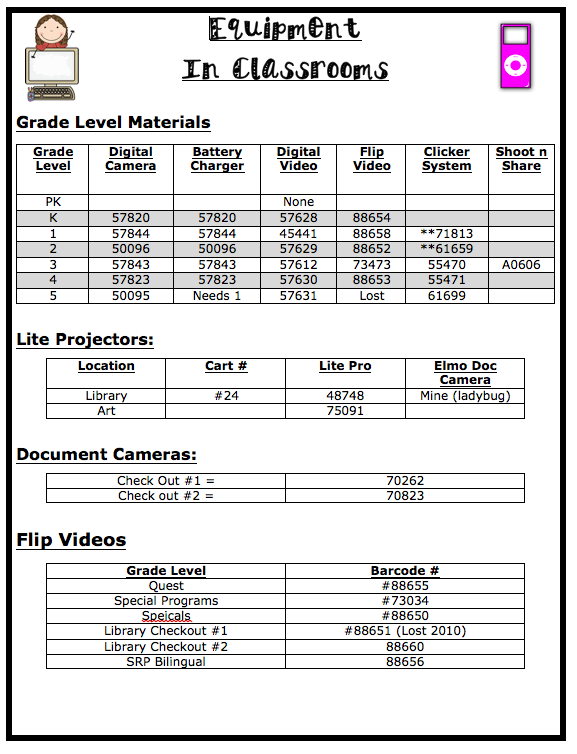 5.  Email Updates
It's often hard to remember all the information that I need to share with teachers regarding the end of the year, especially once all the craziness begins.  So I've learned to save a copy of the basic information that I can then add/delete as needed.  I usually send this email out to the campus well in advance and print out a hard copy to put in their boxes.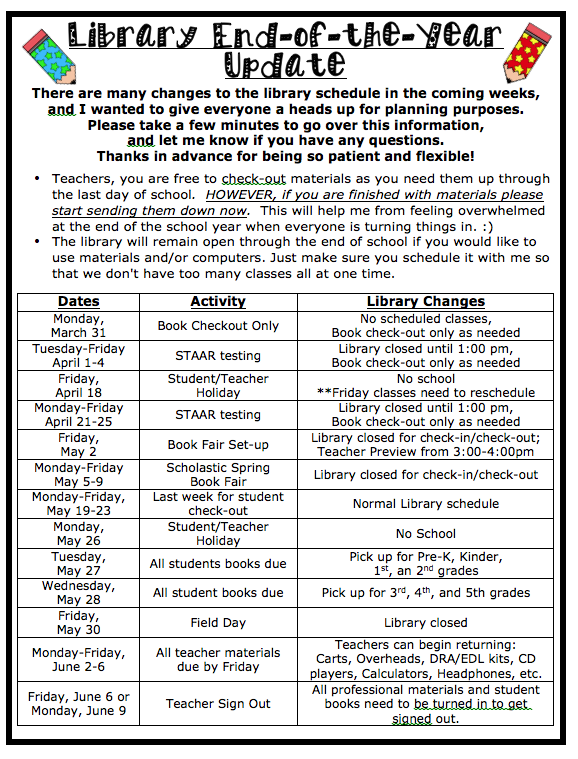 6.  Certificates
As a final incentive to get books returned at the end of the year, I hold a contest to see which class in each grade level can return all of their library books first.  In the past, each student in the winning class could choose a surprise, which was usually either a paperback book or a poster (many of which I received during TLA and the wonderful vendors who gave away free items!  Target's dollar aisle or any Dollar Store is also a good place to scope out good deals!) 
This year, I added a large certificate to hang on their door to advertise the winners.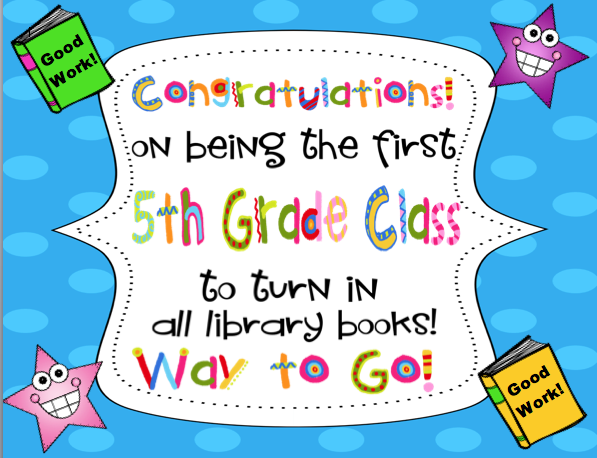 I also wanted to show my appreciation to ALL the classes that returned their books, not just the FIRST class in each grade level.  So, I created additional certificates to post on their classroom doors.  (I printed these 2 per page so each one was about half a page in size).  I thought this would help motivate the other classes to get their books turned in.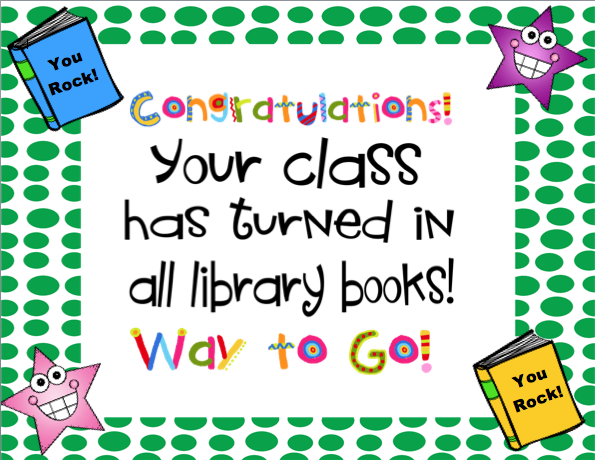 7.  Announcements
On the last week of school, I start to have regular, daily messages on the morning announcements to to let everyone know which grade level was finished turning in all books, as well as how many books we still had checked out.
The students seem to respond well to the "competition" and were encouraging each other to find their books or even reminding each other to come work them off during their recess time.  I created some templates so that I can just write in the information and quickly hand it to the office.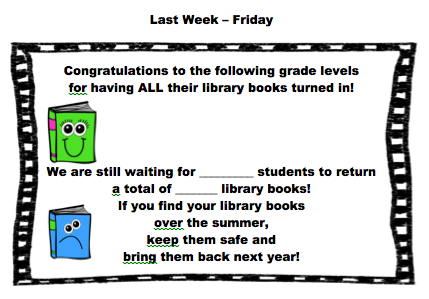 I also print out overdue notices one last time for the parents with the following note attached.  I send it home with the students before the last day of school in hopes of getting the book back or at least the money to repurchase the book over the summer.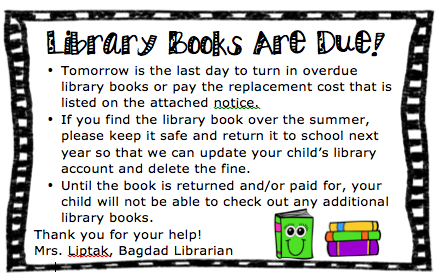 If you would like copies of any of these items, you can find them at my TpT store.
What type of systems or encouragements do you use for the End of the Year in the library?  I'm always looking for new ways to improve and would love to hear back from you! 

Sandy