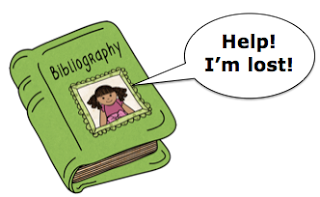 Ahh…it's the end of the year,
        and the struggle to find lost books begins
  (or continues if your school is anything like mine!)


     I work at a Title 1, bilingual campus and the majority of our families come from low socio-economic backgrounds.  I have worked hard to get my students (and parents) to understand the concept of ACCOUNTABILITY,and that when they check out a library book, they are actually RESPONSIBLE for it.  If something happens to the book (if it gets lost or damaged), they have to find a way to take care of it.  Basically, here's the system that we have developed over the last four years:
1.  Each class has a weekly scheduled library time.  As long as they don't have any overdue books, they are able to check out up to 2 books (with an extra book or two if they are working on a research project).
 PreK, Kinder, and 1st grade are only allowed 1 book per checkout so that they can learn to be responsible. Once they hit second grade, they "graduate" up to being able to check out 2 books!
2.  If a student has an overdue book, and they know where it is, I just ask them to bring it tomorrow and in the meantime they can take one of my paperback books. This way, they still get a new book to read. (These paperbacks are leftovers from when I taught, along with freebies or real cheap ones that I find at half priced books or garage sales.  My students also donate some every year for our library that they have out-grown.)  I organized them into the same 4 groups as my actual library books (see previous post here about this):
Orange stickers – Fiction (longer, chapter books for 4/5th graders)
Purple stickers – Fiction (shorter, chapter books for 2/3rd graders)
Green stickers – Non Fiction books
Blue stickers – Everybody books
3.  If they DON'T know where their library book is, I print out 2 copies of the Destiny screen that shows their name, the name of the book, barcode, and price of the book.  
•   I stamp their copy with the message "Please return lost library book or pay the replacement cost listed on the notice." (I got smart last year and actually ordered a stamp with this information so I didn't have to keep writing it!)
•   I use a second stamp on my copy with the message "Notice Sent Home On:" and I write in the date. (I've learned from my "repeat offenders" to keep track of the number of times I've sent the notice home.  This way, after 2-3 times, I have them call home from my phone so that I know their parents are aware of the lost book.  I keep all these copies in order by grade level on a clipboard by the circulation desk.
4.  My end goal is always to try and get the book back or at least the money to be able to repurchase the book for our library.  Unfortunately, that is not always the case with my students. So after the third week of not returning their library book, I will give them the option to "work off" the book.  
 In order to "work off" a library book, they have to have the notice signed by their parents (again to make sure that they are actually aware of the lost library book).
Then they come to the library during their recess time for one week to do odd jobs such as:  cleaning books, cleaning book-buddies/shelf markers, labeling paperbacks, cutting scrap paper for computer areas, sharpening pencils, finding books to weed, etc. (really, anything I can think of that doesn't require much supervision from me as they often come when I still have classes).
The students and I devised a system of 1 week of work = 1 book.  If they come 4 days in a row, I give them the 5th day free.
         The first year I started this system was very difficult.  The students (and parents) were not used to being held accountable, but I plowed through.  I am happy to report that this year I was able to get a little more than half of our lost books paid for, which is a HUGE improvement from where we started.  I do still have those students that wait until the very end of the year to try and work things off, but those numbers are dwindling down to just a handful, which again, is a HUGE improvement from our first year!
New Ideas:
          This is definitely a "work in progress"!  Next year, I plan to have a data area in the library near the exit doors where I can post the classes with NO lost books!  I'll also have a message each 9 weeks on the morning announcements to celebrate those classes, and hang a "book trophy" on their door.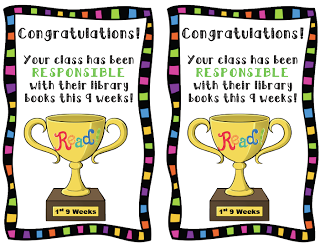 I will also post the number of books and amount of money that have been lost each month, as well as the running total.  We can use it to celebrate and/or set goals for the next 9 weeks.  I think this will help make them more aware, especially since our budget is already rumored to be reduced by $2000 for next year! YIKES!  Every little bit will help! 


     How do you handle lost books in your library?  I would love to hear about your ideas as I'm always trying to improve!  
UPDATED on 10/26/2013
Well, as I said, I'm always trying to find ways to improve. 🙂 In an attempt to save on paper and ink, I am now only printing 1 copy of the notice to send home to students.  Instead of printing a second copy to keep for myself, I created a binder labeled "Overdue Library Notices" with dividers for each grade level.  Behind each grade level, I placed several double-sided copies of the record sheets.  This way, when I send home a notice I can write in the dates to keep track of how often they have been sent home.  I can use this same area to notate if the books were found, paid for, or worked off. I can also use this at the end of a 9 weeks period to see which classes were struggling in returning their books on time, and use that information to follow up with those classes and work on ways to keep their books safe. It also allows me a quick way to see which classes in each grade haven't had issues and therefore have earned their trophies.  If you'd like copies of these forms, you can find them at my TpT store or at Teacher's Notebook.