I love the beginning of the year, and teaching the Parts of a Book is one of my favorite lessons to do.  I had previously created an activity where students actually help me MAKE a book, and then we reviewed the vocabulary on a large interactive poster.  (You can read about that activity here.)
     This worked really well and the kids enjoyed the activity, but the poster was cumbersome to bring out in the coming lessons for review.  I looked around for something that I could use, but nothing seemed to have ALL the vocabulary words that I wanted to go over with my students.  (I found that they were missing Title Page, Publisher, and Copyright Date.) So, I decided to create a smaller version of the Parts of a Book that I could hang up in the library.  I made 2 individual posters, but I also made a larger 16×20 color poster at Office Depot that contains both of them to hang up in the library.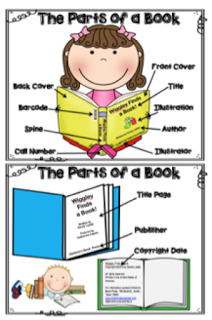 I also wanted to have a quick way to assess the students to see if they understood the concept, so I created two diagrams for the students to label using the vocabulary that we introduced and/or reviewed.  I copied these pages double sided, and students could either take them home to show their parents or they could put them into their classroom portfolio binder as documentation of their learning in the library.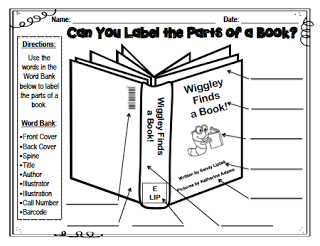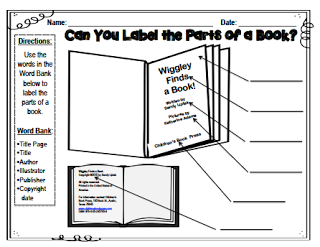 Finally, I wanted to also give my students a way to practice this skill, so I created a set of matching flashcards.  I made several sets of these flashcards, and put them in those small brown envelopes that they use for our report cards.  Students could work together in pairs and play "Concentration", or they could work alone to match the picture to the correct vocabulary word.
If you think this would be an activity you'd like to do with your students, you can get it here on my website or at my TpT store.
Updated 7/11/15:  Thanks to the suggestion of a friend, I have now included 2 new vocabulary words: End Pages and Verso.  I made these as separate posters: one poster adding End Pages and another poster adding End Pages and Verso (just in case you don't teach these words.) I also added an alternate version to the first poster which includes Summary.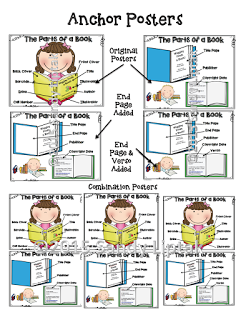 I also created another version of the assessment pages in case your students have troubling writing the entire vocabulary word on the blank.  The 2nd version allows students to only write the letter next to the vocabulary word.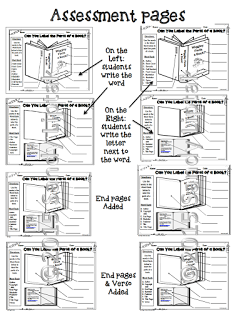 Finally, I added the matching cards with both of these words.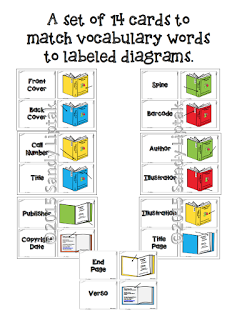 I love when a product can be made even better!  
Do you have any other fun ways to teach the parts of a book? I'd love to hear your ideas!
Sandy