I always like to do some sort of a "Scavenger Hunt" with the upper grades at the beginning of the year.  It helps the students reacquaint themselves with the library, but it also helps them notice changes that may have been made over the summer.  It's also a great stress-free and fun way for the new students to be shown around the library by the returning students.  
I had previously created a Scavenger Hunt that I have used for the last couple of years (you can read about that here).  This worked well, and the kids really enjoyed it, but I wanted to try something different this year.  I wanted to start the year off reading a book for every grade.  So I spent a few days going through books and talking with other librarians and we came up with a great list of books to use.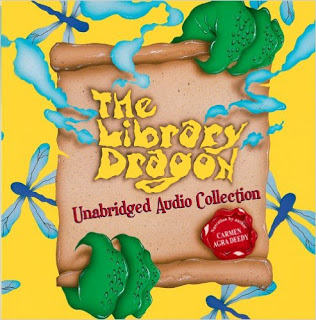 It's such a cute story about a new librarian, Miss Lotta Scales, who is hired for the Sunrise Elementary School.  She takes her job very seriously, which tends to cause some problems for the students and teachers. 
What I loved about this book was it mentions all kinds of places around the library that you can use to create a scavenger hunt.  
398.2's and 500's
Biographies
Fiction
Easy (picture books)
Reading nook
Supply area
It also mentions many different behaviors that you could use for a review with the students at the beginning of the year.
protecting books from getting dirty and tearing
forgetting to bring library books back
using quiet voices in the library
I knew I wanted to have the students up and moving around the library, so I created a set of question cards with the Library Dragon theme that I could give groups of students on their first visit to the library.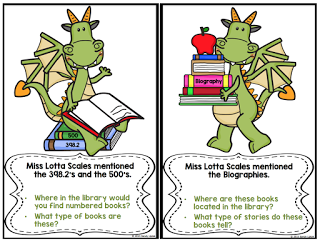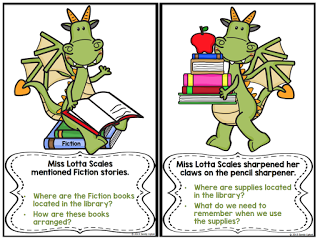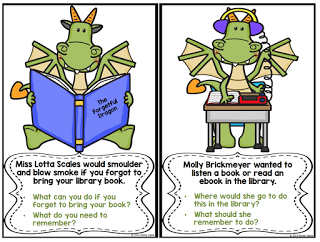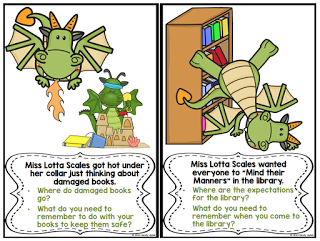 If you are interested in doing this Scavenger Hunt with your students, 
There are 8 pages of questions cards total.  The last page has the same question, but two different versions of it.  One uses the term "Book Buddies" and the other uses the term "Shelf Markers".  
I printed them on white cardstock, laminated them, and then cut them apart.  I hole-punched each of the 16 cards in the top corner and put them on a ring.  I started each set of cards on a different question so that the groups wouldn't all be going to the same place at the same time.  After I finish reading the book, I'll hand out the cards to groups of 2-3 students and let them start.  After about 15 minutes, I'll have the students come join me back on the floor and I'll have them share their answers and ideas to make sure that we are all on the same page. 
Be on the lookout for some additional Scavenger Hunts connected to other books coming soon!  
Hope you find this helpful!
Sandy