I've posted a lot about teaching book care with the younger grades, and while I like to use the same poster board set to introduce the idea of book care ( you can read about that activity here), I wanted to use different books with each grade level. 
     This year for 2nd grade, I introduced them to the great book The Shelf Elf by Jackie Mims Hopkins.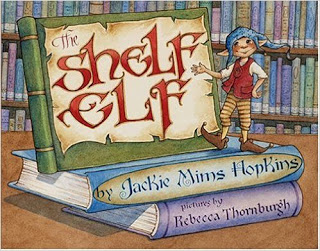 In the book, the students meet Skoob, the Shelf Elf.  He explains that his job is to take care of the books on the library shelves, and to hopefully win the "Golden Shelf Elf Award" at the end of the year.  The book starts off by showing students how to use a shelf marker (we call them Book Buddies) and how to recognize books that have not been placed on the bookshelf correctly.  Then, with each new page, Skoob shows examples of things that COULD happen to a library book and then gives a rhyming reminder for the students. 
     I wanted to find a way for the students to review how to take care of their library books to go along with this book once they got back to their own classroom.  So I created this Book Care booklet.  I copied the front cover in color and laminated it.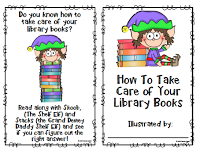 Then I copied the other 10 pages in black and white and cut them in half.  This gives you a total of 20 examples.  But I also made a blank example in case you have more than 20 students.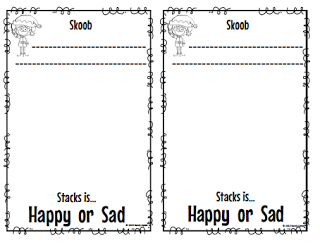 Library is part of the Special's rotation at my school, so I have a mix of classes instead of just one homeroom class.  I knew I would have to find a system that would allow me to easily hand out and collect their pages.  So I made a file folder for each teacher.  I attached the laminated front cover to the file folder with a binder clip and paper-clipped all the half pages.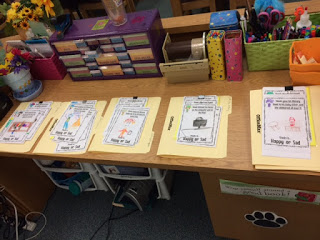 After we read the book, I took the students on a quick tour of the library.  Then I told them that Skoob made a book for each of their classes to help them remember how to treat a library book.  Unfortunately, he ran out of time and wasn't able to illustrate it.  He was counting on their help.  I called each teacher's name, and those students came up one at a time.  I took the half pages from that teacher's folder and read the statement at the top.  They had to tell me if Stacks would be happy or sad. (This was a quick way to see if they knew how to keep their library books safe.)  If they were correct, I handed them the sheet and they went to draw their pictures.  Then I called the next teacher's name and those students came up.  I continued until I had called all the teachers. 
     When they were finished, they brought their pages back up to me and told me their teacher's name.  I added their illustrated page on top of the laminated cover using the binder clip.  Once I've met with all library groups, I will take all the illustrated pages and staple them into the front cover to create a book.  I will then deliver the books to the classes for their classroom library.   
     The kids had such a good time drawing the pictures, and they turned out sooo cute!  Here are a few examples!   This activity turned out even better that I had hoped for!
If you would like to try this with your students,
I hope your student enjoy it as much as mine did!
Sandy