This is a quick update on my blog post on "Starting Research with Elementary Students".
I have to be honest…I love getting silly with my students, and often find that they pay more attention when I do.  One of my favorite "characters" that I "get silly with" is the French Story Chef, Madame Liptak!  I come out wearing my story apron, matching white chef hat and mixing bowl, and begin to speak in a VERY BAD FRENCH ACCENT.  (Ironically, I have a minor in French from college, and actually have a teaching certificate to teach French up to 8th grade…Unfortunately, the boat has passed on that career…when you don't use something every day —or in my case over 20 years—, you lose it!  But I'm still able to have fun with the few words and phrases I remember!)
Eh Voilà!
Let me present Madame Liptak!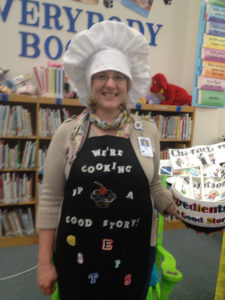 So, this past week, Madame Liptak came out again, but this time she came out to discuss "Ze steps in ze research project, non?" (Okay, I warned you my French accent was BAD!)  In the past, I have introduced and/or reviewed the steps using an activity I created called "Recipe for Research". You can read about that here.  It's always been a fun way to review the research steps, but I wanted to make it more interactive with the students.   So this year, when I started research with my elementary students, I created these note pages for them to work on while Madame Liptak was teaching.   Of course, with everything I do, I always find ways to make it better so here's a look at what I've created after doing this activity all week!
Lesson #1:  First, I created a blank note-taking device for students to use to fill in their notes on each step as I went over them.  I collected these pages after the lesson, and saved them for our next library class.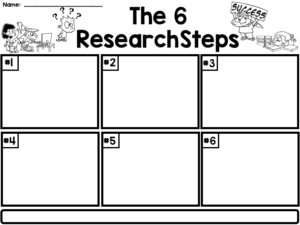 As expected, there were some students who had a difficult time keeping up with all the writing, so I created additional modified versions to help them out.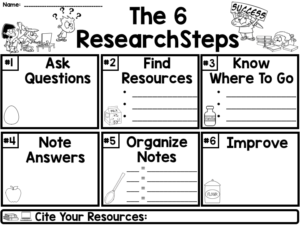 There's also a full color version that you can post in your library and/or classroom as an anchor chart for the kids to reference as needed throughout the year.
Lesson #2:  When they returned the following week, I handed back their papers, and had them turn to the back side where they had the Research Topic brainstorm pages below.  The one on the left is the one I use with Kinder-2nd graders.  The one on the right is the one I used with 3rd – 5th graders.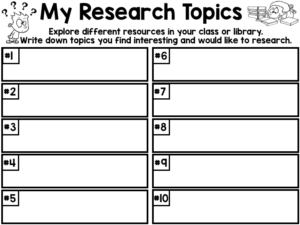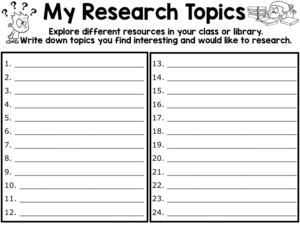 I had the kids explore our databases and our Non-Fiction books, and write down any topics that they found interesting.   Some kids were SOOO excited about exploring topics that they not only filled in this page, but continued to write topics down on notebook paper!  YEAH!  The epitome of a teaching research win! I collected their papers once again at the end of our library class
Lesson #3 & 4:  On the following visit to the library, my kiddos looked back on the research topics they wrote down, and chose the ONE topic that was really "speaking to them".   I gave them one of my Fast Fact Sheets and stapled it to their Research Step & Note page so that everything stays together.  You should have seen them running back to their seat so they could start finding out about their topic.  Another teaching research win!
Lesson #5+:  For their next visits to the library, the students will decide on HOW they want to present their research information.  I am pretty excited about this website I found called Animate by ABCYa.com.  I will show them them the tutorial on how it works and give them the option to create an animated video to share their research or they will be able to choose something else from our project list:
Create their own Non-Fiction book
Creating a brochure
Create a poster
Write a song
Write a poem
Create a puppet show
Create a google slideshow
Build a diorama
Another idea that I have
I know it's going to be crazy with all kinds of different research projects going on (all 600+ of my Kinder-5th grade students are doing this right now!), but their excitement is here so we're going to go for it!  If you would like to use any of the Research Step forms or the Research Topics brainstorm page to start research with your elementary students, you can find them here.
On a side note, my students have really enjoyed this new database from Gareth Stevens called "Report Builder".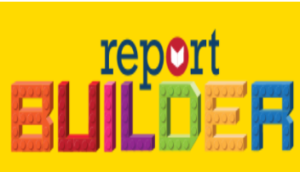 Our district was offered a free monthly trial, and so far my students and I have been impressed.  You can also sign up for a free trial here.  (By the way, I'm in no way affiliated with Gareth Stevens…I'm just sharing this information as my students have had fun exploring the four example databases: Birds, U.S. Presidents, Solar System, and People in My Community).   As a result, many of my students have gotten hooked onto researching things in space, so I had to create a new Space Fast Facts for them!  Here's my latest addition!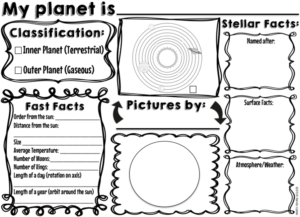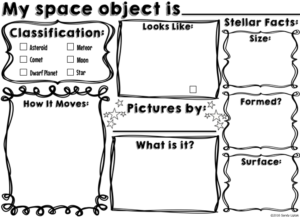 As always, I hope you find these ideas useful!