If you've been patiently waiting for me to finish the 3rd Grade Literacy Lesson Plans, I'm happy to announce that your wait is FINALLY over!  Yes, you read that correctly!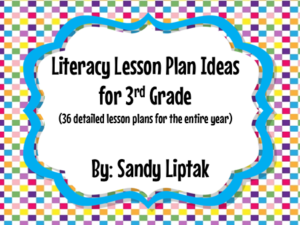 If you are new to my website, I had originally blogged about putting together a collection of
36 Kindergarten lessons
to use for those brand new librarians/teachers or those unexpected times when you are sick and don't have the energy to type of lesson plans for a substitute. I then created the
1st grade follow-up
 and
2nd grade follow-up
.  I am extremely amazed at the amount of positive feedback I have received on these literacy lesson plans, and truly appreciate all the support and patience that everyone has given me as I tried to finish the 3rd grade plans!
     As I've said before, putting these plans together is fun, but they do take a lot of time.  I had considered working in 6 week chunks, and was going to try to post each 6 weeks as I finished them, but that didn't quite work out.  Inevitably, as I'm working through the different lessons, I end up going back and revising previous lessons along the way that I thought were already completed.  I also try to check all the links one more time before I officially post, just to make sure nothing has changed out there in the vast internet world.   I also spent more time double checking the books that I used for each lesson, and tried to make sure to use books that were widely available through bookstores or online.  Although each lesson does connect to a specific picture book, I've made the lesson general enough that the main concept and lesson plan can still be used even with other books along the same theme.
So what is actually included in the 3rd Grade Literacy Lesson Plans?  Great question!
Just like my other sets, there are  36 separate lessons that cover a variety of skills/topics to take you through the school year such as:
Book care
Good Fit Books
Award books (Caldecott, Newbery, Bluebonnet or other state awards)
Digital Citizenship
Parts of Fiction book & Genres
Parts of Non-Fiction books & Text Features
Dewey Decimal System/Call numbers
Reading Strategies: predictions, book walks,  visualizing, connections, questioning, inferring, summarizing
Author's Purpose
Research skills
Folktales: Fairy Tales, Fables, Myths, Legends, & Tall Tales
Poetry Type & Poetry Tools
All activities are connected to a Fiction or Non-Fiction books that you most likely have in your class or library or can easily purchase on Amazon.com.  I've included an outline that shows the order of lessons and the books that are used for planning purposes.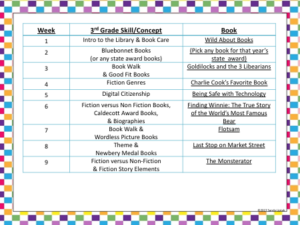 Each lesson page shows the week number, the skill/concept, and the book's title and author at the top.  Then there are 3 main sections including step-by-step directions, additional activities that can be used, and possible technology extensions.  Here's a sample of what the 3rd grade plans look like: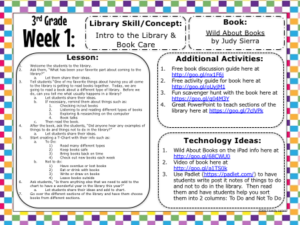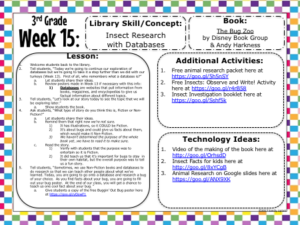 To keep things organized, I put a copy of each lesson page in a 3-ring sheet protector, and copies of any additional activities behind the page.  Then I placed them in a binder.  Depending upon how many of the activities you print, you can use a 1 1/2 or 2 inch binder.  I also included binder covers and spine label in case you purchase the ones with the clear-view pockets.
At the request of many customers, I also added a checklist for both the Texas TEKS and the Common Core Standards.  This way, you can check off the skills the lesson uses in case you have to turn in your lesson plans.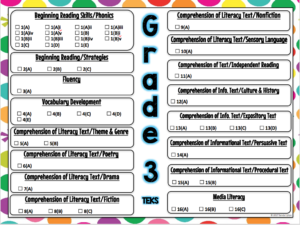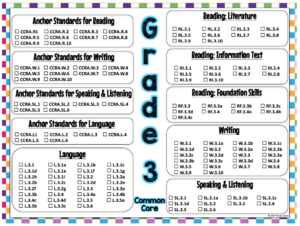 And finally, I also added a blank editable form that you can use to create your own lessons in the same format.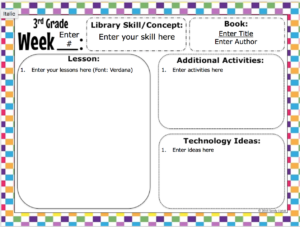 If you would like the entire collection of 36 3rd Grade Literacy Lessons,
As always, I hope you find these useful, and I'd love to hear your feedback!
(Now, some of you may be wondering…okay, so are you planning on doing lessons for 4th & 5th grade too?  The simple answer is yes, I plan on doing them at some point.  You'll just have to keep checking back to my website to see when they are completed!  But don't worry, you'll also get to see some of the other fun ideas I'm working on right now!  Take care!)