Have you heard about Bookprints yet?
I first blogged about Bookprints a couple of years ago when I followed a Pinterest link which took me to a Scholastic article.  (You can read about that here.)   It was such a BIG HIT with my faculty, that I have decided to do it again this year!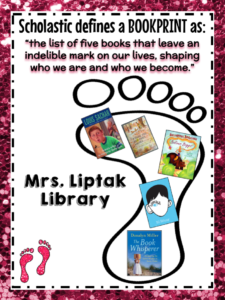 What exactly IS a Bookprint?!
Scholastic described Bookprints as being "a list of 5 books that leave an indelible mark on our lives, shaping who we are and who we become."  Powerful, huh?!  You can see why it was such a big hit among teachers, and why we decided to do it again this year!  But, as with most things I do, I've updated it a little bit and it now matches our school's Scrabble theme!  Here's a look at the directions that I sent my campus, along with my example: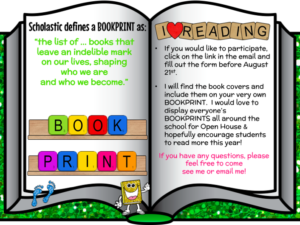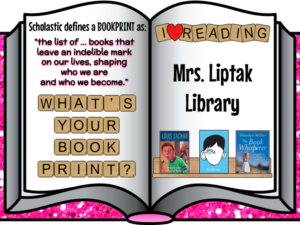 They were really excited to participate, but many teachers struggled with "How do I pick only 3 books!?"  So I told them to try and think of
1) a book from their childhood that brought back memories,
2) a book as a teacher they felt students connected with
3) a professional book that helped them grow as educators
My goal is for them to give me their list of books between now and our first week of inservice so that I can make, print, laminate, and hang up their Bookprints before Open House night (or definitely before the 1st day of school.)
I'm also hoping to do a digital version of this with students.  I thought it would be fun to have students take pictures of themselves with a special book throughout the year .  Then, I could load those "Book Selfies" onto an old digital picture frame that I've spruced up.  I'm hoping to also put their pictures on a Google Slideshow and have it playing on our library website.  I thought it might be a great way to advertise different books recommended by their peers!
It's not too late to start a Bookprint Event at your school, too!    You can choose to do the original Footprint-themed Bookprint here or the Scrabble-themed Bookprint  here!  I hope you have as much fun learning about your faculty through their book selections as I did!  It's a great way to build a community of readers (and build your own "I wanna read this next" list!)