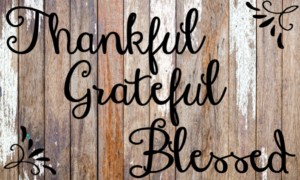 November and December have always been my favorite months for many reasons, but this year I'm feeling even more thankful, grateful, and blessed!  Let me catch you up!
So, it was book fair week and ask any librarian …. She/he will tell you how crazy stressful it can be!  Especially when you run it all by yourself, without an assistant or many volunteers as I do.  Everything was going just fine, and I was just thinking we may have an okay year when I got sick.  At 1:30 am!  Right before the last day of book fair!!  Which also happened to be our schools' Thanksgiving Luncheon day!!!
So there I was…a few hours later around 5:30 am realizing that my pain is getting stronger and stronger and my husband is telling me that we need to go to the Emergency Room.  All I keep thinking is …"No. I have to go to school!  I have book fair!  If I'm not there, we won't open and then all those parents and kids are going to be so disappointed!"
THANKFUL! 
I'm so very thankful that I have many friends who I can call on for help.  I began texting teachers at my school who've helped me before with book fair late nights, fellow librarians from other schools, and even some retired librarians.  All the while, my husband waited calmly by my side, understanding my need to get things secured and organized, while remaining vigilant in helping me through the pain as much as he could.  (But also insistent that we were going to the hospital!) 
GRATEFUL!  
I'm so very grateful that I have friends and family that were willing and able to help!  A retired librarian and true friend arranged to be there at 7:30 am to open the book fair and run the registers until my wonderful secretary could arrive and take over.  All this before she left to go to the airport on a trip   My mom who was already coming in to help during our lunch busy times told me she was on the way and would be there to help customers shop at 7:30 am, and ended up staying all day AND helping pack everything up.
BLESSED! 
I'm so very blessed that the Emergency Room doctors were very understanding of my "I've never been in a hospital before" fear.  While the initial cause of the pain is still unknown (more tests coming soon), I was very happy to be released that afternoon.  Even more amazing was the fact that over 20 people (classroom teachers, assistants, counselors, and even my principal) came together after school while I was at home resting and helped pack up the book fair so that it would be ready for pick up the following Monday morning.
While I spent the weekend resting, I couldn't help but reflect on how much the kindness and support from others meant to me.   I knew I wanted to share that with my students, and someone get across to them how important it is to take time to be thankful and grateful for the people in their lives.  And so began the creation of my Fall Literacy Stations …. All of these stations are available here on my website or at my TpT store.
Fall Literacy Stations: I Am Thankful!
The first thing I did with the students was read the short book, Thankful  by Eileen Spinelli. It is an amazingly sweet story with a very special message at the end!  Then I told them a shortened version of what had happened to me, and how thankful I was for everyone who helped me out.  This led me to talk about how writing thank you cards can be a way to express gratitude for things that people do.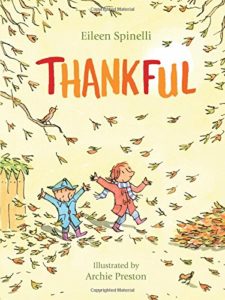 This was something I had planned to do during Random Acts of Kindness Week, but it felt right to do it now.  I had previously purchased sets of blank cards at Michaels for $5 on sale like the ones found here.  I explained to my 2nd, 3rd, 4th, and 5th grade students that they could write a thank you letter to anyone they wanted, but to make it heartfelt and thoughtful.  I was (and still am) blown away by their sincerity …. some chose to write to former or current teachers, football players, friends, and a few even chose to write to family members and/or pets who had passed away. It was heart-wrenchingly beautiful…if there is such as thing!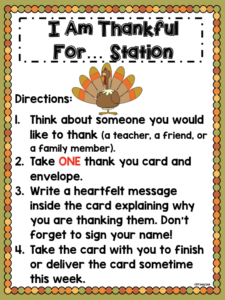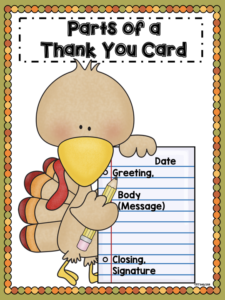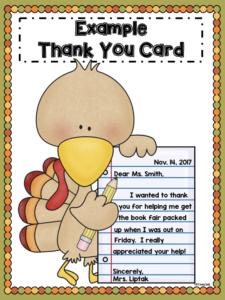 For Kinder and 1st grade, I modified the Thank You Letter into something more manageable for them.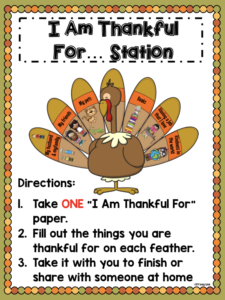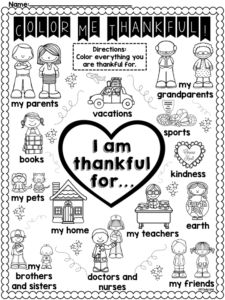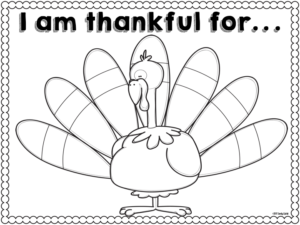 Fall Literacy Stations: Writing  
I began to think of other stations that I could make to help students with their writing skills (which is one of our school's focus improvements for this year).  Immediately, I thought of how funny it would be to tell a story from the turkey's perspective…and I quickly connected it to one of our favorite series of books by Doreen Cronin (Diary of a Worm, Diary of a Spider, etc.)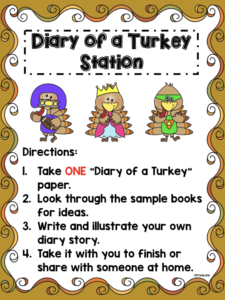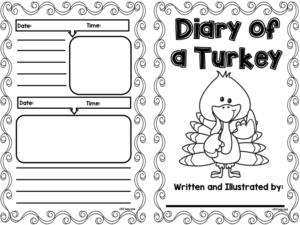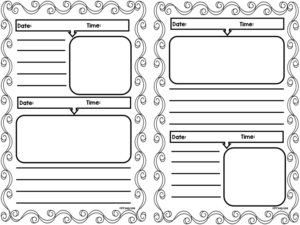 Then I thought of how fun it would be to write some poems to go along with being thankful so I created a series of Poetry pages.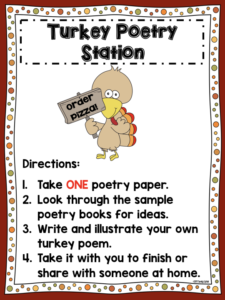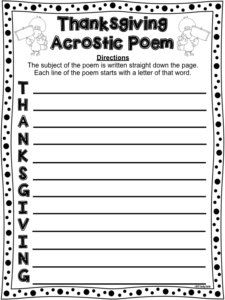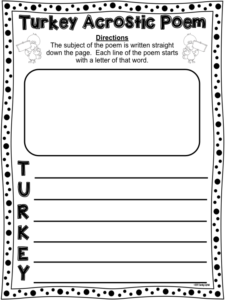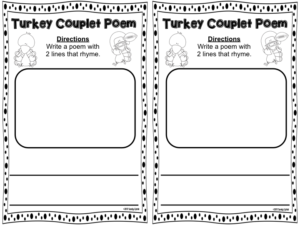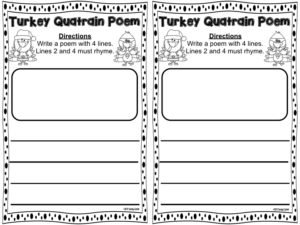 Fall Literacy Stations: Reading
My kids love decorating bookmarks, so I created a fun "Draw your own turkey" bookmark station.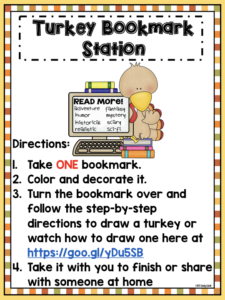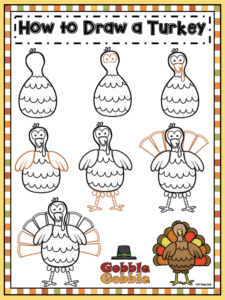 They also love reading my personal book collection, so I put out all the Fall books that I've collected over the years and put it together with a QR Code reading station.  (You can find all kinds of free and/or paid QR Code Listening centers on TpT.)  I also have a folder on our school iPads that has all kinds of fun Fall iPad games.  You can find many of them listed here.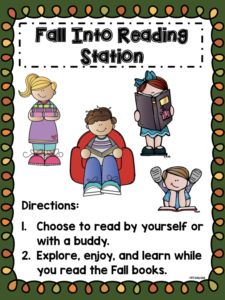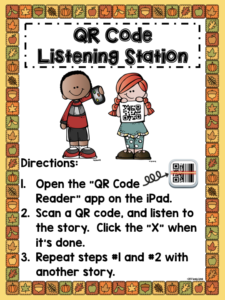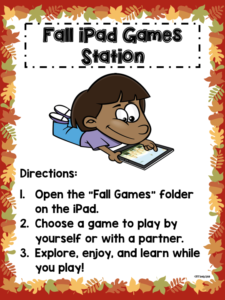 Fall Literacy Stations:  Spelling & Word Work
Finally, I created a station that I used to use in the classroom with my 3rd grade students to help with their spelling.  I called it "Battle of the Words".  Basically, students set a timer (we usually set it for 3 to 5 minutes) and they would try to come up with as many words as they could using the letters in the "battle box".  When they timer went off, they would compare words and get points for each valid word.  (A 3 letter word would give the 3 points, 4 letter words would give 4 points, etc.)  If anyone disagreed with the legitimacy of a word, they both looked it up in the dictionary. The Mystery word was worth 10 points, and used every single letter in the battle box.  I made one with a "Thanksgiving-themed" mystery word as well as a blank one that can be used for your own words.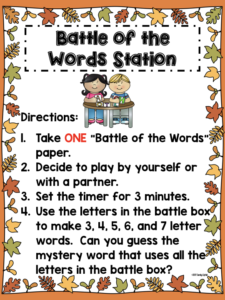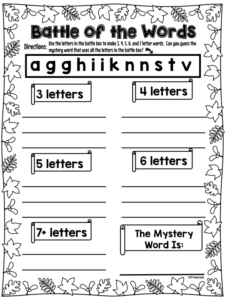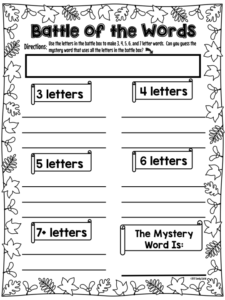 If you are STILL READING this post, I am also very THANKFUL and GRATEFUL for you!  I wish you, your students, and your family a very Happy Thanksgiving!