As we get closer to counting down to a new year, I start thinking about all the new books I ordered that will soon be coming to the library!  (Can you see me grinning and jumping with glee just thinking about that!)  But with that excitement also comes the worry over how long they will last before the first book is ruined by the nefarious water bottle or lost in the same twilight zone as the socks in the dryer!  So this year, I decided to make a quick booklet to review good book care with my younger kids, while also talking about New Year's Resolutions for the Library.
Here's what I am going to do:  I'll copy both pages double-sided on white paper, and then fold them in half like a booklet. With  my younger kinder kiddos, I'll go over the booklet together with them.  We will look at each countdown picture and see if they can figure out what it means.  Then I'll read the statement and they will decide to color in the happy face or frown.  On the back, we will talk about what "Resolutions" are and I will read the two resolutions listed.  I'll have them illustrate what that promise looks like in the box.  Then they will sign their name to promise to work towards those goals.  Any leftover time we have, they can color the book to take home and share with mom and dad.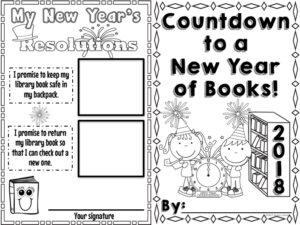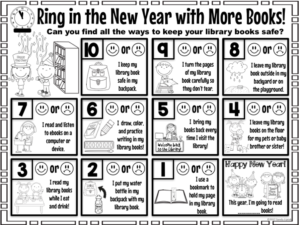 I also made a blank version so that my 1st graders could write in their own resolutions.  I figured that they would be able to handle that easier than my kindergarten kiddos! 🙂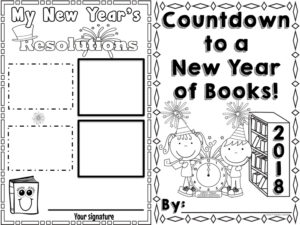 Finally, I made an editable version so that you can add in your own resolutions and continue to use it year after year. If you would like to try this out with your students, you can find it here at my store or at  TpT store.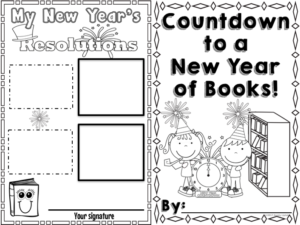 Are you planning on doing New Year's Resolutions for the library or your classroom?  I'd love to know what kinds of activities you are doing with your kids!  Please share!
In the meantime, I wish you all peace and happiness in this new year! Here's to a great 2018!