We will be focusing on discussing Digital Citizenship over the next two weeks in the library, and how to be safe while on the internet.  I created these posters and bookmarks to help teach the information to my students, and have a way to review them throughout the year.
     After doing the lesson all day, I came to realize that I needed a few things to make the lesson go smoother.  While the poster is great, I spent time writing and/or drawing the 4 main pieces (the head, the heart, the belly/gut, and the feet) with my younger kids to begin to introduce the topic. Sadly, I'm not a very good artist, so I realized I needed some additional posters to help me teach this lesson.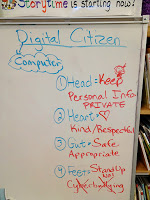 So, I added a picture of the boy, and then larger pictures of the explanation pieces so that you can literally "build" the poster as you talk about the issues. These pieces would also be a great way to review these concepts throughout the year as well.   
If you would like to use these posters with your own class,
I hope you find them useful! 🙂 

Sandy