When I was in the classroom, I used a variety of centers with my students.   Some worked well, some I kept having to tweak, and some just eventually died a natural death!  After my first year in the library, I decided to try and introduce some centers in the library as well.  After students checked out their books, they could either sit and read or go to a center until it was time to leave.  My original idea was to try and put up a center that focused on different multi-sensory and/or academic skills.


First Attempt at Centers

1) Puzzle Center

I purchased several puzzles from Ravensburger (200 piece Ocean theme, a 300 piece Safari theme,  and a 300 piece Solar System theme). The pictures were so bright and cheerful, they just "called to me!"

Problems I Encountered:  
I originally had my puzzle center near the exit door.  Unfortunately, the younger Pre-K and Kinder kids would "play" with the pieces and as a result the puzzle would get taken apart.  We ended up moving it to another location, and that helped tremendously. 

Would I still use it? 
Definitely!  It's a calming center, and those visual-spatial kids have an opportunity to shine!  I also found this really cool Richard Scarry Busy Town puzzle that I thought would be fun to get as it also becomes a game board!

2) Scrabble Center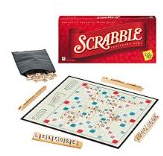 I already had a Scrabble game from my classroom that I used for the library as well.  It was just the basic board game, which allowed for up to 4 players. I thought this would be a good center to have for kids who liked to write or spell, or play board games.
Problems I Encountered:
The main problem was the shortness of time.  Once the students got everything set up, it was time to go back to class.  So, they came up with the solution to leave a game playing from one class to another.  Unfortunately, this led to some inappropriate words that sometimes were spelled on the board.
Would I still use it?
I don't think I would use the actual Scrabble game as a center, but there are variations of it that would be shorter such as Boggle, Bananagrams, etc.   There's quite a few free Boggle game templates on TpT or Teacher's Notebook that you can print out and laminate so that you can use them over again.  
3) Sudoku Center
For my math-inclined friends, I actually ordered a really nice wooden Sudoku game from Amazon.com.  It comes with over 20 different board games ranging from easy to very difficult.  I laminated the boards so they would last longer.  There is also a storage area underneath to keep all the pieces together, which helps he area stay tidy.


Problems I Encountered:  
Many of my students didn't know how to play the game, so it was a learning experience for them.  It also proved to be a little challenging for them.
Would I still use it? 
Yes, I still like the idea of a math center.  I may start with magic squares or other similar math puzzles first, and build up to the sudoku game.  There's also a large assortment of free Sudoku templates on TpT and/or Teacher's Notebook as well that you can print out. 
4) A Bookmark Center
This was the biggest hit, as far as the students were concerned, and the easiest for me!  I simply had rectangular pieces of cardstock, in varying colors, that were precut by our copy center.  The kids could take one and decorate it to make their own bookmark.


Problems I Encountered:
The only real problems I had were that kids would sometimes take more than one, or they would start one, and then leave it on the table.  (Funny enough, it was always other students who told on them!)


Would I still use it? 
Definitely!  I think kids need to have an outlet for their creativity, and this definitely helped give busy/creative hands something to do! 

5) An ABC Center
I found a cool website (DLTK)  that had a variety of different ABC color pages.  I printed off several of each letter of the alphabet, and put them in a center for students to help me color.  I had originally envisioned this center as a way to create our own variety of school ABC books that my kindergarten students could then practice reading.


Problems:
The students enjoyed coloring the pages, but not many were actually "using" the finished "ABC" books to practice their reading or review their ABC's.


Would I still use it?
I don't think I'll use this one again, at least not as I had set up before.  I'm still tinkering with this idea.
Changes for This Year

     After reading some articles, blogs, and books and talking to several other librarians in our district who tried out different centers, I've going to make some changes to my centers for next year.
     First of all, it was driving me absolutely NUTS that I could NOT find another container like the ones I had found in the Target Dollar aisle a few years ago.  These were perfect for holding crayons, pencils, markers at each center table so that those supplies were readily available.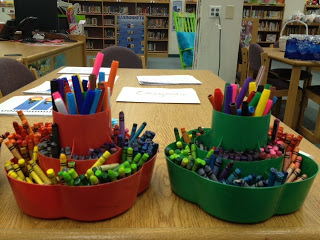 So, I decided to create my own.  I wandered around Michaels and Hobby Lobby, and eventually an idea was formed!  I purchased these Flower Charger Plates at Hobby Lobby for only $1.99.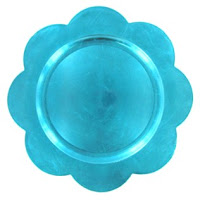 Then I found these cute pails on clearance for only 39 cents! (Of course, I had to search through 4 different Hobby Lobby stores to find them all!)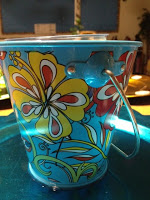 Then I purchased a bag of plastic cups and velcro pieces to put around the flower petals to hold the crayons. Here is the final product! 



Here are the centers I plan on trying this year:
1) Learn to Draw
I found this really cool website called "Activity Village" where you can print different things that show students how to draw.  I printed out almost everything there, laminated them, and put them in a binder.  I arranged them by month, and I plan on putting 3-4 out every week on a table with scrap paper and my new crayon/marker stations that I made. 
2) Create a Bookmark
I am going to continue this center from last year.  
I found these neat "Bookmarks to Color" for free at TpT!  
I am also going to put out bookmarks like the following that I made to go with the different genres. 
 I'm storing all these bookmarks in a binder as well, arranged by month, so that I can keep them organized and easily rotate them out.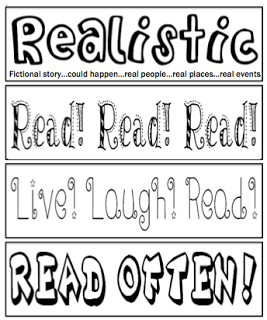 3
) Read With a Buddy
At this center, students can choose a "monster" buddy to read with or they can select one of the stuffed animals/book characters that I have all around the library.  I got this idea from a website where a mom had orchestrated a whole day with monsters.  I found a cute set of monsters from Oriental Trading.  Even though they were smaller than I thought, the kids LOVED them.  I also found some cheap ones at Walmart around Halloween time.   This is also a good place to put your whisper phones if you have them.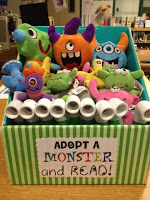 4) Play a Game 
I want this center to be a place where I can put out different games that review library skills we have discussed.  I'm in the process of making some matching games (parts of book, genres, dewey sections, types of poetry, poetry terms, etc.) I also have been trying to find travel games on sale like the ones here that you could put out on the table. 
5) Learn About a Topic
In this center, I want to highlight a topic or person that is relevant to the time of year or to the topics that students are studying.  For instance, if a grade level is studying space, I could set up different space and/or planet books and put our my electric model of a solar system that shows all the planets and their orbits.  I can also use this as a way to introduce Biographies/Autobiographies .  For example, on George Washington's birthday, I could display books about him.  I created the blank chart below and will blow it up as a poster.  Students can write in facts as they find them.  This can also be a springboard to talk about different types of resources, how to cite sources, etc.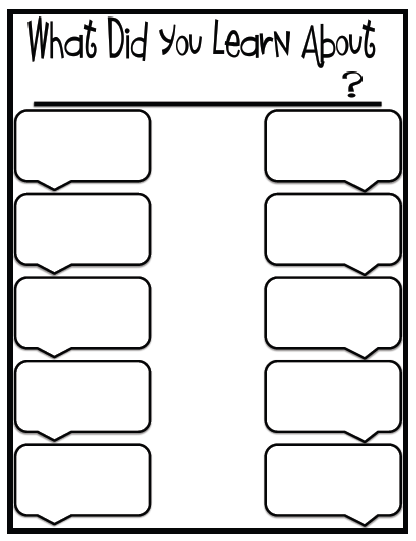 (I'm in the process of adding center signs & activities to my stores at 
TpT
 or 
Teacher's Notebook
.  Check them out if you are interested.)
One of my favorite bloggers is Cari Young at
The Centered School Librarian
.  If you haven't checked out her blog yet, I highly suggest it!  It is filled with a plethora of wonderful ideas, and her book,
The Centered School Libary
is also a great investment to have if you're interested in starting centers in your library!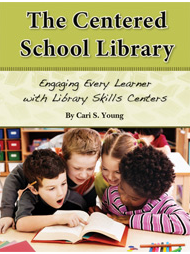 What centers have you tried in your library?