Finding new books to read is one of my favorite things to do, and I always try to inspire my kids to feel the same way. As a librarian, I make large purchases of books 2-3 times a year, and I always make it a huge event when I receive the books. I place the books all around the library on tables, and throughout the week, the kids are invited to our New Book Tasting Event! Depending upon when the books arrive, this event has been called "New Year, New Books!" (for January) or in one case when the books didn't come in time I had a "Fall in Love with a New Book" (for February).
This summer, I've been spending a lot of time at different bookstores, reading up on new books to have for my lessons, and it got me thinking…what if every month you highlighted the importance of finding new books to read and help kids build a habit of having an "I want to read next" book list! As adults, we do it, or at least I know I do (I'm actually looking at a stack of 7 books by my nightstand that I'm wanting to read.)   Shouldn't we encourage kids to do the same thing?
So I decided to create a series of bookmarks that would encourage kids each month to develop a list of at least 3-4 books that they would want to read. Each month has a different motto, and they are all black and white so that the kids can color them to make them uniquely theirs.   Here's a sample of the months…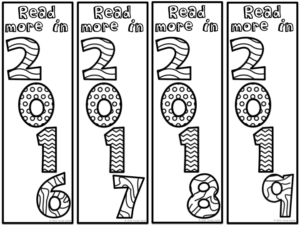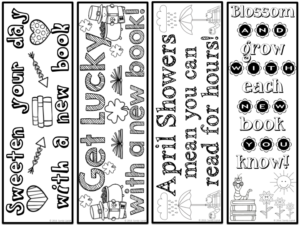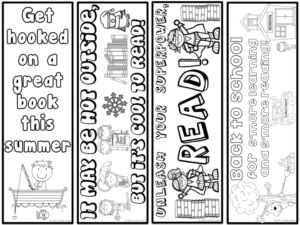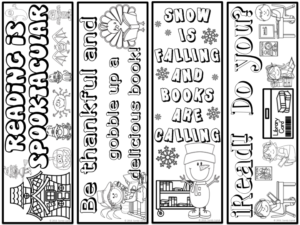 My plan is to hand these out to my kids at the beginning of each month as they come to the library. I'll copy them onto white cardstock so that they can last longer, and will encourage kids to share their lists with each other. I will double-side them with a copy of the page that includes the "call number" so that kids can remember where to find the book in the library.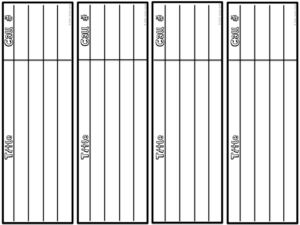 Parents, you can also easily do this with your own kids. There are 5 different pages with 4 different bookmarks on each. You can double-side them with a copy of the page that includes the "author's name" so that kids can find them at the bookstore or a public library.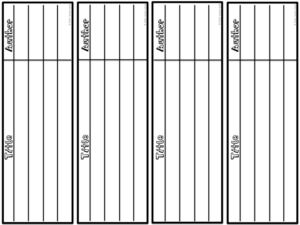 If you do this just a few times a year or every month, make sure you take time to talk to your kids about WHY they choose different books to write down!  I always find that it gives me just a little more insight into WHO they are and WHAT they find important.   Maybe you can even read the book as well, and then compare your favorite parts with each other!
All of these are available in my store!
I hope you find this useful, and happy reading!